In three short days it'll be time to load the Song Bird, (my touring bike) into the van and head over to San Diego for the start, on March 12 2011, of my current cross country tour. As folks like to say, "been there, done that", Yep, I have made the trip to SD, 1997, to begin a ride to Florida, so why do this route again? The short answer, time & opportunity. The spring promises to be a good time for this route and my connection with tour leader Bubba Barron provided a comfortable option for a "supported camping tour", why not?
In 1997 I was 48 years of age, new to cycling, motivated to something big, challenging and worthwhile for my favorite cause, Habitat for Humanity. Thus, with the help of others, in my then home town of Huntington WV, we put together the "Break the Cycle Tour", raising awareness of and money for Habitat. $112,000 and three new homes were the gratifying result of that effort, dedicated to the memory of my parents. My mother died just days prior to my departure.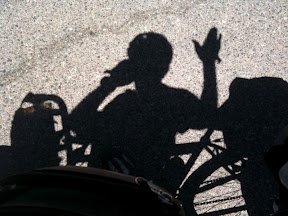 But that was then, this is now.
At age 62, retired seven years, living now in Arizona, a veteran of several long distance tours, I am, I hope, a different person. If not I haven't been paying attention. The world we knew has changed markedly; In September 1997, Princess Diana's death was the big story, in April 2011 her son takes a wife. On a more serious note, emigration issues and the Gulf Coast, following Hurricane Katrina, make a trip across the South a different experience.
And then there is the supported vs self-contained touring experience. In a supported tour your bags are transported, your meals prepared by others and there is a massage therapist along. Pretty cushy, don't you think?Well.....I still have to ride the 3,000 mile route, but if you like to ride as I do, that's the great blessing. Riding for the joy of riding. No agenda, no money to raise, no panniers to carry, just spending seven weeks with 13 others doing what we love.
So while a glance at the map would say same ol same ol, it's not the same at all. Every thing old is new again. Lookin' forward to getting under way. So it goes.
- Posted using BlogPress from my iPad
Location:Tucson AZ