We rode out of camp at 3,000 ft elevation and 63 miles to Calexico CA elevation -1. The Mexican border was on our right all day long as we watched various US Border Patrol work in progress.
A ten mile decent on I-8 was a treat and aided our average of 16.5 mph.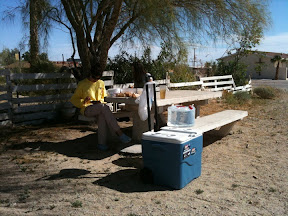 Staff members Michele and Erica has a hot lunch at 31mile post. Not bad.
The geography is dry desert, wind was not much of a factor which was good. We are camped tonight at the Calexico Fidel Department grounds using the it facilities. The firemen are even fixing dinner. A hot shower a couple of beers, dinner ahead. It's good to be here with the group and participating. thanks be to God. So it goes.
Location:Alameda St,Calexico,United States