A beautiful sunrise in Dateland AZ, gave way to a warm day, 97 I believe.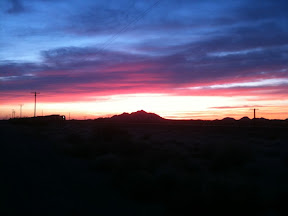 Out on the highway the route was a mix of I-8 and the frontage road to Gila Bend, about 55 miles at 16.5 mph. So far we have been blessed with tailwinds.
Views along the route included the mainline of the Union Pacific RR, carrying trains in both directions at a regular clip. An old relic water tank speaks of railroading of yesteryear.
Large, I mean LARGE, dairy farms which must milk 1,000 or more cows, were along the way.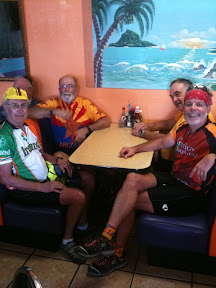 Most of us enjoyed, a more than ample lunch, at Sopies Mexican Restaurant, as we entered Gila Bend. I was thankful for the break and refreshment.
Giving thought to and thanks for, the considerable blessing, of being able to be here doing this brought to mind two of our riders and three of our staff.
Dawn is a 63 year old lifetime type A diabetic,with an insulin pump, who is facing her issues and chooses to press on. Bravo Dawn!
Rand, also 63 years of age, recently retired, diagnosed with MS forty years ago, and likewise, is here riding daily. These folks are everyday heroes, for the example they set for us.
Among the staff are three young folks from Missouri who, with some others, do the heavy lifting in looking after the riders. Erica and her man Gopher, along with Gopher's brother Gentel-Ben.
These kids put up and take down the tents, do much of the cooking, laundry and anything else ask of them, by the riders or Bubba, with a smile. They are blessings to us ALL.
So on one hand we are blessed by courageous example of our fellow riders and their stories and on the other, uncommon grace-under-pressure.
As the old hymn instructs "Count Your Many Blessings, Name Them One by One"..........Let me just say, Dawn, Rand, Erica, Gopher, Ben.
An other good day as we travel on. So it goes.
Location:Gila Bend AZ