Have you experienced the pleasure of reconnecting with childhood friends, through one of the social networking sites which have come on the scene of late? Recalling my childhood, in Lakewood Ohio, during the late 50's & early 60's, have afforded an uncommon opportunity to relive "those thrilling days of yesteryear", through shared memories. One of mine is Saturday Morning children's TV;..... Sky King in particular. "Out of the clear blue of the western sky comes Sky King, a WWII naval aviator-turned rancher, who flies his twin-engine Cessna, named The Song Bird, high above the Arizona plains. Accompanying Sky on his adventures are his nephew, Clipper and his teen niece, Penny." All this in a thirty minute program brought to you by Nabisco. I reckon I became enchanted with Arizona during those 72 episodes aired between 1952 & 62 and repeated for many years there after.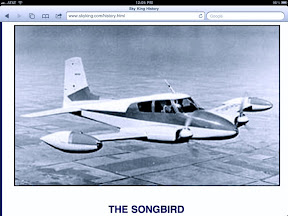 Now some long distance touring cyclists will affectionally name their bicycle, spending as much time in the saddle as we do. I have always regarded this as a bit silly, that is, prior to acquiring my brand new Bruce Gordon BLT. A new bicycle can make you feel like a kid again. Somehow, riding through rural AZ desert & plains, inspired me to give her a name and the name is,........."The Song Bird"!..... WOW, doesn't that just knock your socks off? Well, OK, maybe not, but it's as good as any other and it does help overcome worrying about being silly.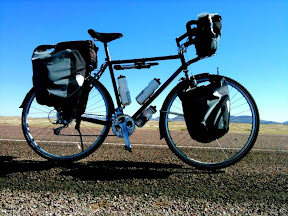 The Song Bird
And if being silly is as bad as it gets,..... that's really pretty good, good being a kid again, if only in my heart.
- Posted using BlogPress from my iPad
- Posted using BlogPress from my iPad
Location:Tucson, AZ