Yesterdays opening city, Tribune is the hub of wheat production in Western KS. The county's 1256, sturdy, friendly and dry
souls, live sixty miles from the nearest Walmart. The mayor announced "Greeley County had jobs ready and waiting for those who favor a high quality life style in Western Kansas."
His Honor didn't define "high quality" but when he quoted the Walmart statistic a cheer arose from a good many of the 800 riders gathered in the Greeley HS gym. Reports of homes going on the market in Kansas City, as cyclists rush to relocate, are as yet unconfirmed. Those anti Walmart elite would have a hell-of-a-time trying to find a latte in Western Kansas.
Riding out to the Colorado state line I passed by the Chatterbox Cafe
I stopped in to see if Garrison Keillor was holding court, nope, I was told, he up in Minnesota fussing about the Republicans and sipping on a latte, Oh well?
The 4-H club provided dinner, along with home made desserts, as well as breakfast this AM, all good.
Today's ride carried us 48 miles East to Scott City, through Cattle feed lot after feed lot.
We,re told 400,0000 head of cattle are fed and finished yearly in Scott County. This would be no place for a vegetarian.
Ag is BIG biz in KA, USA. Bring them in, feed them out to market weight, then off to the "packing house" and on to tables everywear.
We,re camped tonight on the HS football field, food is being offered by some of the local churches and well as the school, no sign of Starbucks here, but.......... the woman ARE strong, the men good looking and the children are all above average. From Scott City, Kansas, so it goes.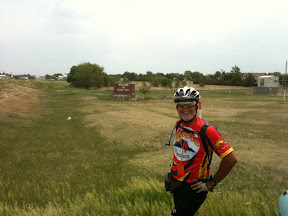 Location:Scott City, Kansas.